Friday October 22, 2021
Polite photo / Ray and Rolinda Dardano
+ Enlarge
Members of the Salt Lake area of ​​the Western Lieutenancy of the Order of the Holy Sepulcher in Jerusalem will be introduced at the recent annual meeting in Las Vegas.
Ray and Rolinda Dardano
The Western Lieutenancy of the Order of the Knights of the Holy Sepulcher in Jerusalem (EOHSJ) held its first personal annual meeting in two years in Las Vegas. The theme of the meeting was "On This Rock"; it was held in the Red Rocks area west of town. The meeting weekend was atmospheric and began with a "rosary under the stars" on a ranch in Red Rock Canyon, a wonderful place to come together as a fellowship to pray for Christians in the Holy Land.
That evening set the tone for a weekend of prayer and celebration, including a memorial mass for members who died last year. It was chaired by the Most Revered George L. Thomas, KC * HS Bishop of Las Vegas. The concelebration was the Grand Prior of the Western Lieutenancy, His Excellency, Most Rev. Jose H. Gomez, KC * HS, Archbishop of Los Angeles, along with 13 other prelates.
Salt Lake Area members who died before September and who were commemorated at the Mass were Sir Ross Brunetti, KCHS; Sir Michael Joseph, KGCHS; Lady Nora Mancuso, DCHS; and Sir Renaldo (Randy) Spagnoletti, KHS. Saturday Mass also recognized the promotion of more than 90 members, four of whom are Salt Lake Council members.
A Sunday mass included the investiture of more than 60 new members of the Order, a larger than average group that spanned the two years since the last personal annual meeting. Masses were held in the Holy Spirit Catholic Church, a relatively new congregation in Las Vegas; the pastoral work for music was taken over by the church choir and orchestra.
EOHSJ is focused on growing the spirituality of its members, providing spiritual and financial support to Christians and Christian organizations providing humanitarian service in the Holy Land. Christians in most of the Holy Land's parishes are largely dependent, directly or indirectly, on tourism for their livelihoods, so the pandemic continues to hit them badly. At the meeting it was reported that the spiritual and financial support of the EOHSJ worldwide is encouraging to those struggling to sustain their lives in these difficult conditions.
Information about the EOHSJ, including assistance to the Humanitarian Fund, can be found at www.eohsjwesternusa.org.
Ray and Rolinda Dardano are Area Co-Councils for the Salt Lake Area of ​​the Western Lieutenancy of the Order of the Holy Sepulcher, Jerusalem.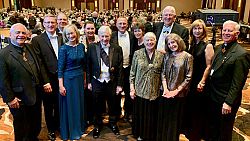 Source link